Russia bans 10 US diplomats
Russian Foreign Minister Sergey Lavrov said on the 16th of April that the United States announced the expulsion of 10 Russian diplomats as part of sanctions against Russia, and the Russian side also "requests the evacuation of 10 US diplomats."
The Russian Foreign Ministry in a statement released the list of ten current or former US officials barred from entering the country. Russia on April 16 has termed the United States' new sanctions as "unacceptable and unprovoked".
Russia bans 10 US diplomats
Russia has barred US Attorney General Merrick Garland, FBI Director Christopher Wray, Director of National Intelligence Avril Haines and Secretary of Homeland Security Alejandro Mayorkas from entering the country. The other officials banned from entering Russia are Susan Rice, a former UN ambassador and now head of the Domestic Policy Council, John Bolton, who was a national security adviser under former President Donald Trump, James Woolsey, a former CIA director and Michael Carvajal, director of the Federal Bureau of Prisons. Foreign Minister Sergey Lavrov said that the government will close US non-government organization that remain in Russia as they meddled in Russia's politics.
❗️ In response to the sanctions against Russian officials imposed by the 🇺🇸 US administration, the following US high-ranking officials and figures complicit in pursuing the anti-Russia policy, are denied ❌ entry to the Russian Federation👇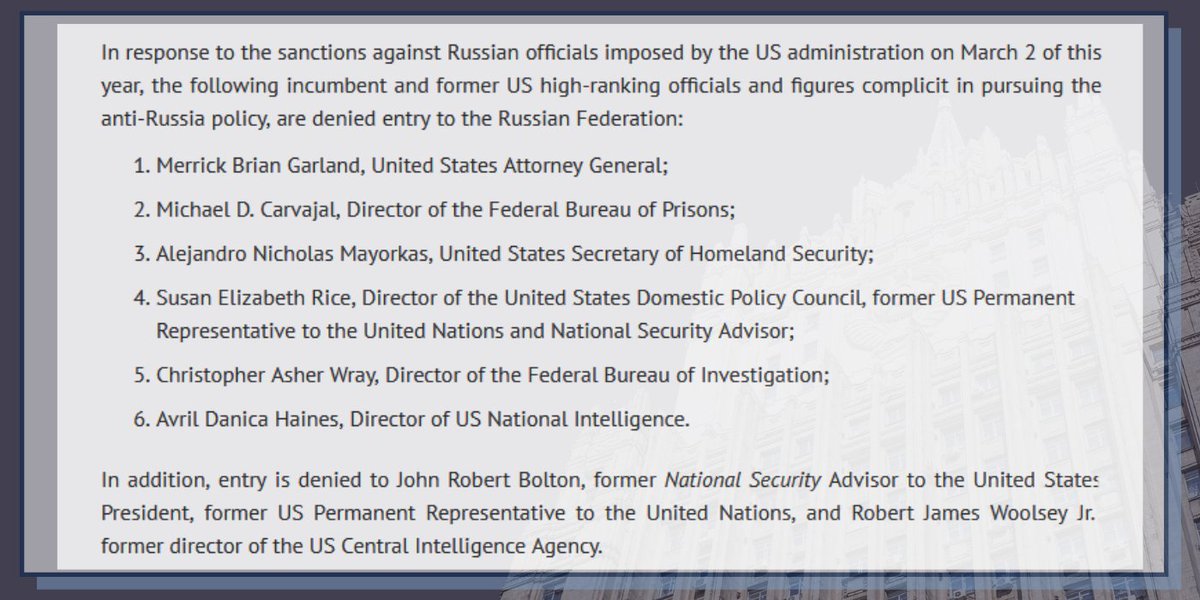 Originally tweeted by MFA Russia 🇷🇺 (@mfa_russia) on April 16, 2021.
US sanctions Russia
The US Department of the Treasury announced action against 16 entities and 16 individuals who attempted to influence the 2020 US Presidential election at the direction of Russia's government leader. The US also barred 10 diplomats, who include alleged spies. The department further informed that the announcement follows the Intelligence Community's (IC) Assessment of Foreign Threats that stated that Russia employed a system of government officials and companies to covertly influence US voters and disseminate misinformation about candidates, election processes during elections.
US President Joe Biden called on Russia to talk on the 15th, while issuing economic sanctions against Russia, and in Russian politics, the Biden administration's "hard-line stance to put US demands under pressure" (Vice-Chairman Konstantin Kosachev) The repulsion is getting stronger. It has become uncertain whether Putin will respond to the US-Russia summit proposed by Mr. Biden.
JOIN US ON FACEBOOK